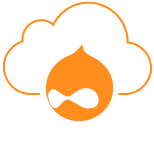 Have your web site hosting managed by us for speed reliability, SEO and security. Our fully managed hosting service ensures that your website runs on the high performance, security, maximize its user experience.
We have a wide range of hosting solutions to suit the demands or your website, so you get the best out of your website.
Managed Hosting
Most types of website can be taken care of within our range of server options – each hosting environment is optimised to your website's specific requirements so that we can offer the best value and peace of mind.
Drupal Hosting
We manage the hosting of a number of Drupal websites which vary in complexity and levels of traffic. You may require, Solr server for fast search indexing or Memcache to fit with your website caching strategy we can set your hosting up to meet the specific needs of your website.
WordPress Hosting
If you're looking for hassle free WordPress hosting on our high performance, secure services we can help. As we design and build websites we also know the importance of ensuring they run fast to maximise customer engagement and SEO.
Ecommerce Hosting
Poor hosting can even affect your chances generating regular sales. Slow page loading can frustrate buyers and will alienate a percentage of your website traffic. Depending on the type and size of ecommerce site you are setting up, your budget, and your expected volumes, we will setup a hosting solution that perfectly suits you and is optimised for your website.
What comes as standard?
Security
Each of our servers are carefully configured and secured down in a number of ways because we don't like security breaches and we offer free hosting support. Our servers are patched frequently and routinely monitored automatically and manually.
Free Hosting Support
If you need to contact us due to a problem with your website hosting we will respond within 1 hour. The truth is that if there is a problem with your website we will know about it before you and will probably have fixed it because of our 24/7 uptime monitoring.
Domain Name Management
The world of DNS can be confusing, we can manage this for you and ensure your domain is setup correctly.
Free SSL
We can now offer all our clients Free SSL thanks to our open source friends at Internet Security Research Group (ISRG) with Let's Encrypt https://letsencrypt.org/
Resilience
Offsite routine backups made daily, weekly and monthly so if for any reason your website needed restoring we can do this. Restoring from backup due to a non-hosting fault may incur a modest charge.
Safe, Secure, Fast
All of our services are Linux based and include:
PHP
MySQL
Nginx
HTTPS support
Firewall Protection
Memcache
Solr
We will not provide a Cpanel or Plesk interface or baffle you with jargon, simply just send us your website files and database and we'll take care of the rest.
If you have an existing website just send us details of your hosting provider,
or
If you have a copy of your website just send us your website files and database.
We can take care of the rest.