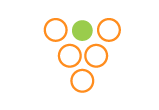 Grapes is a cost effective e-commerce platform tool for selling Wine, Beer, and drinks online for fine wine outlets, wholesalers and retailers. Grapes is specifically designed to manage the intricacies of selling drinks online from managing members bonded wines, through to selling tickets for tasting events.
Design
Although Grapes is a standard platform for the drinks trade we provide a fully bespoke design service.  We understand how important design is in representing your brand and company culture.
Vintner Integration
Grapes includes direct integration with customers who have adopted Vintner Systems accounting system specific for the drinks trade.
Full product catalogue and product attributes
Continuous integrated product updates
Stock control
Pricing including all price bands
Members can access wines in storage
Fully compatible order processing
For merchandising
All the tools you will need to drive traffic to your website and easily enrich the content and manage campaigns
Discount engine to help drive your campaigns
Configured for trade or retail customers under on system
Very easy to update and maintain media rich merchandising content
Sell by the bottle, or case
Sell other products such as tickets for tasting events to cork screws
Pay On Account Credit Limits
For personalisation
Make your customers feel special and give them reason to return time after time.
Special prices integration from Vintner
Personal tasting notes
Custom ratings
Customer specific messages from your sales manager
For digital marketing
Don't let your website stand alone - use the web to integrate your catalogue with many other affiliate systems to maximize your reach and online sales.
For payments
We have partnered with a number of the major payment gateways to provide you the best pricing.
Bespoke Development
If you have specific ideas to be a cut above the rest we will build modules bespoke to you and for you to have exclusivity over them.
About Grapes
'Grapes' is the name for the Vintner integrated website solution, we have developed on Drupal and Drupal Commerce open source platforms. Grapes is setup to meet the specific needs of those in the drinks trade.  
Grapes enables us to offer an evolving platform at a fraction of the cost that it would take develop from scratch, with the sophistication of Vintner back office integration. We also see this as a long term benefit for you. Therefore as the platform evolves we can offer you the latest updates cost effectively.