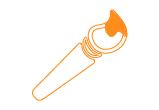 We create stunning modern web designs which will put your brand at the core, while our designers will also pickup on business personality and culture to generate a look and feel that positively grows your reputation and your customers' confidence in your brand.
Not only will we make your website attractive but we also ensure that usability is not compromised so that your customers have an enjoyable experience in ordering online.  Our website designs enable your website to be mobile responsive so that it scales gracefully to devices with different screen sizes. 
The design styles that are adopted for your website will accommodate your immediate requirements and foreseeable future needs, enabling your website to be able to grow as you do.  
Before we present any design concepts to you we carefully analyse the following :
Brand continuity
Usability
Colour pallet that will appeal to your audience
Layout that is tuned to give a natural hierarchy of content
Diversity of content that will be added
We take as much care over the design as we do the technical development, to ensure your site works well and looks good.
Please see some of the examples of our recent work.
Would you like a free no obligation quotation? 
Contact us now.