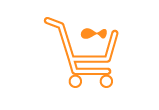 We use Drupal Commerce because it offers extraordinary levels of flexibility, customisation, and ability to scale. The core system enables administrators to control and maintain content in an easy-to-use interface while its e-commerce system also offers an array of feature rich products and order management functions.
The system provides endless possibilities for integrating with back-office systems, payment service providers, social media channels and many more. We also build bespoke modules to further enhance your online shop and provide you with a competitive edge.
The benefits include:
Functionality rich
Low cost & no license fee
Access to pre-built working modules
Easy to maintain and update
Back office integration
On-going security reviews
Hundreds of modules already built to integrates with most payment service providers
Find our more contact us to
schedule a demo.
Back-office systems Integration
We have successfully provided bespoke integrated solutions with Apple iOS for iPhone and iPad app; Vintner Systems accounting system for wine companies; European vendors providing products for customers in Asia.
Multi-Currency Shopping
Your online shopping website can be restricted by country or opened up to a global audience. The core systems offer multilingual and multi-currency support. Its core pricing engine makes it easy to manage discounts, offers and sales campaigns.
Open Source E-Commerce
Having worked with a number of e-commerce platforms, we have chosen Drupal Commerce because it has one of the most active development communities in the field, with the technology to progress rapidly thus enabling you to stay ahead of your competition.
Support
We support both new and existing Drupal Commerce websites.  Just like any good software security and progression, it is important that as new module updates and security patches become available, we can take care of ensuring your website is maintained and updated.
See just a few of our
standard support options available.
The Drupal commerce framework is flexible enough to cater for most e-commerce requirements. Below are just a few of the features that come as standard.
Design
Starting with a blank canvas or smartening up an existing design, Open Imagination provide professional, high standard, design services to ensure your website design both complements and promotes the site.
Mobile
With the increase in mobile traffic online, developing your website design so that it is responsive or adaptive to mobile devices is becoming imperative.  The Drupal frame includes both the flexibility and functionality to tailor each page to different devices and screen sizes so that users can effectively browse your website on tablets and mobile devices.
Products
The product display provides single pages from where specific products are found.  The product display pages provide a way of including all the variations of the product that can be added to the basket, e.g. colour, size, weight etc.
Orders
Orders are created following successful completion at the checkout and gathering together products' line items, customer billing and delivery information.  Due to the powerful configuration of Drupal Commerce, we can also define additional fields when placing orders such as delivery notes, discount references, payment authorisation codes etc.
Orders can be managed online through an easy to use interface. Website administrators can follow a workflow, each with their own customer email alerting as appropriate, e.g. Payment taken, Processing, Dispatched, Delivered, Complete, Returned etc.
Drupal can be set up to work as your order management system, handling automated invoice generation with email follow ups and presenting users with their account statements.
When integrating with a 3rd party back office system, the website order processing system can be disabled.
Users
Address books set up for member billing and delivery profiles.
Shipping
Shipping rules can be defined based upon user's delivery location and product attributes, e.g. weight.
Taxes
Multiple tax rules can be set up on a product by product basis, member's delivery location or member type, including global taxation permutations.  This enables the website to easily cater for B2C trading that includes VAT on products or for B2B trading that commonly excludes VAT when displaying products.
Payment Methods
Any number of payment methods may be integrated, including multiple payment options such as SagePay, PayPal, Ogone and over 140 others including, payment on account, cash, cheque.
Checkout Settings
The checkout process is highly customisable but we recommend remaining with the best practice rule from which many other commerce websites have developed the most effective ways of getting customers through the checkout process.
Currency
A default currency can be defined with any number of other global currencies available.  Each product can be defined as a price in multiple currencies. Currencies can be displayed to users based upon the location of their IP address, language preference or other.
Pricing Rules & Discounts
Products can have multiple price lists and be presented to specific members.  Discounts can be applied using pricing rules based on any number of permutations:
Order discounts:
Order totals over x receive free delivery
Orders total over x receive % discount
Orders total over x receive fixed discount
Product discounts:
Buy 2 and receive free delivery
Buy 2 and receive percentage discount
Buy 2 and receive fixed discount.
Any discount can be embargoed or have a start or end date.
These are just a few examples.  
Search and Facet Search
Drupal provides a powerful keyword search and faceted search for your product catalogue. This enables us to filter your product listing by specific attributes, e.g. size, price range, colour etc.
Product Categories
Products that share common attributes such as colour, size, region etc. can be set up as categories. These categories can optionally be created as unique landing pages for products, enabling you to supply more engaging information, e.g. the region a product is from.
Social Media Integration
Integration with Facebook, Twitter, LinkedIn, Pinterest and other social media platforms is paramount for promoting your website. Drupal commerce can provide seamless logins from Facebook, LinkedIn and Twitter.  The integration enables content from the Social Media sites to be displayed on your website from a specified member. When content is updated, Tweets or Facebook updates can automatically be directed from specific accounts.
Search Engine Optimisation SEO
SEO comes as standard with each of our Drupal installations.  Keeping on top of the competition can be made easy when applied efficiently.  We will work with you to provide a high standard of SEO for your website.  Just a few of the tools include:
Customisable friendly URLs
Meta data
XML site maps
Submission to Bing, Google,
301 redirects
Canonical URLs
Accessibility
Accessibility is often overlooked. Every website in the UK should comply with the Disabled Discrimination Act (DDA).  Drupal is one of the platforms that makes this a priority and we provide the tools to enable your website to comply.  Accessibility standards will also benefit search engine optimisation and a high standard of coding.
Security
Drupal is trusted by thousands of high profile businesses.  It is subject to ongoing security tests by both the Drupal community and security experts internationally. Drupal's core code has been proven to prevent common security vulnerabilities such as those defined by the Open Web Application Security Project (OWASP).  Following a recent study among the top open source platforms, Drupal was most secure against hacking attempts. 
Third Party Integration
As Drupal is one of the largest open source platforms available, it includes seamless integration with many helpful third party tools.
Custom Functionality
Open Imagination will develop new modules and functionality if your requirements exceed the scope of the existing contributed modules and the core functionality.