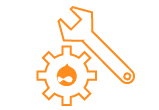 We are ready to help provide support with:
Administrator help
Content updates
Graphic design
Design updates
Repairs
Minor functional changes
Active Maintenance
Drupal core and module security updates are important to avoid security vulnerabilities which could otherwise lead to your site being compromised by hackers. Any critical or urgent security updates will be applied within 24 hours.
Support
If you don't know how much support you may need try starting out on Flexi Support and we can then upgrade you at any time.
Tailored Support
Our support options are designed bespoke in a way that suits you and protects your website investment to give you the support you need.
Our support options include:
Active Maintenance
Traffic reports from Google Analytics
Staging Environment
Administrator training
Administrator assistance
SEO advice
Minor upgrades
Content changes
Access to our development team to assist with bug fixes and site errors
Would you like a free no obligation quotation? Contact us.