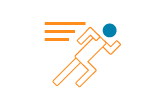 A simple, easy to find, professional website is the way you can do this. It can help you:
Keep in touch with your customers all through the year, telling them about new products you're selling.
Encourage more customers to come to events where they can come and buy from you.
Sell your products online to customers who can come to buy from you at a market.
But how do you set up a professional looking website that can allow you to do all this, when you're busy growing, making and selling your wonderful produce?
The site will match your logo and branding. Links to any social media you use, such as Facebook and Twitter, will be added. Starting with five pages, you can add as many more as you need. A blog will be built into your site, ready for you use. We also provide a full hosting and back up service for your website.
Chantal Cornelius at Appletree works with small businesses to provide really engaging copy for their websites – the words that encourage your website visitors to pick up the phone and place an order! She will write the content for your new Home page and a page about your business. To get you started, she'll also write a page about up to 10 of your products, that you expand on later.
As well as all that, you'll get training in how to use your site and how to add photos of your products. You'll also be invited to events to help you get even more from your website and your marketing.
So what will all this cost you? We know that cash flow is tight, so we've come up with a monthly payment option of just:
Only £36 per month
(Minimum term 2 years)
See how this has benefited Tutts Clump Cider the award winning cider producer who has now has multiple contracts with Waitrose.